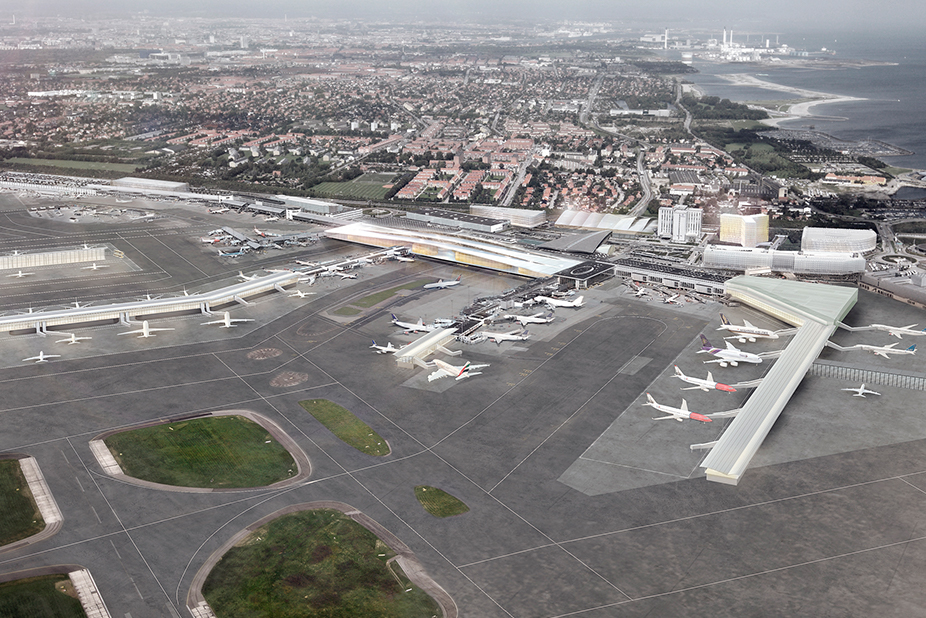 Copenhagen Airport
Extension
Project owner: Københavns Lufthavne
KI: Structural design
Where: Kastrup, Denmark
When: 2019
Copenhagen Airport
Extension
Project owner: Københavns Lufthavne
KI: Structural design
Where: Kastrup, Denmark
When: 2019
Terminal 2 and Pier E
In 2014, Copenhagen Airport set a strategy of expanding the airport within its existing area. The expansion is set to almost double the airports size, expanding from 220,000 m2 currently to 380,000 m2. That gives twice the space in security control and in baggage delivery, as well as creating broader walking areas, more shops and dining options and a new arrival area.
First steps in the grand plans, was to expand the area in Terminal 2 between Pier A and Pier B, and to build the brand-new Pier E.
Terminal 2 almost doubled in size
Terminal 2 was expanded to almost twice its size, giving more space to new shops, food and drinks. The new terminal was finished in the fall of 2018. The existing shops in the area were modernized to suite the new expansion. Terminal 2 all in all has gotten a whole new look and atmosphere, when the whole area was finished in 2019.
Pier E is the new extension to the airport, situated in extension to Terminal 3. It is a modern, light new area for boarding, that can facilitate the increase in passengers at CPH Airport the coming years.
The participants:
In the expansion of Terminal 2, MOE was the main structural engineers. Give Stålspær delivered the steel structure working together with KI. Holsøe Architects were the main architects.
Pier E was designet in collaboration between ZESO Architects and Vilhelm Lauritzen Architects. COWI was the main engineering consultant, with KI assisting with consultancy on construction of certain elements.
Our role:
On the expansion of Terminal 2 the main scope was delivering design of the steel structures in Terminal 2 in collaboration with Give Steel. We were in charge of the connection design on the main constructions.
In Pier E we have designed four staircase towers. The structural design of the staircase towers, included structural calculations and design.
Photos: Copenhagen Airport, ZESO Architects and Vilhelm Lauritzen Architects and KI Consulting Engineers.
The new terminal is light and modern
Photos of the steel construction
When the construction began, this video was made to explain how the airport would change.