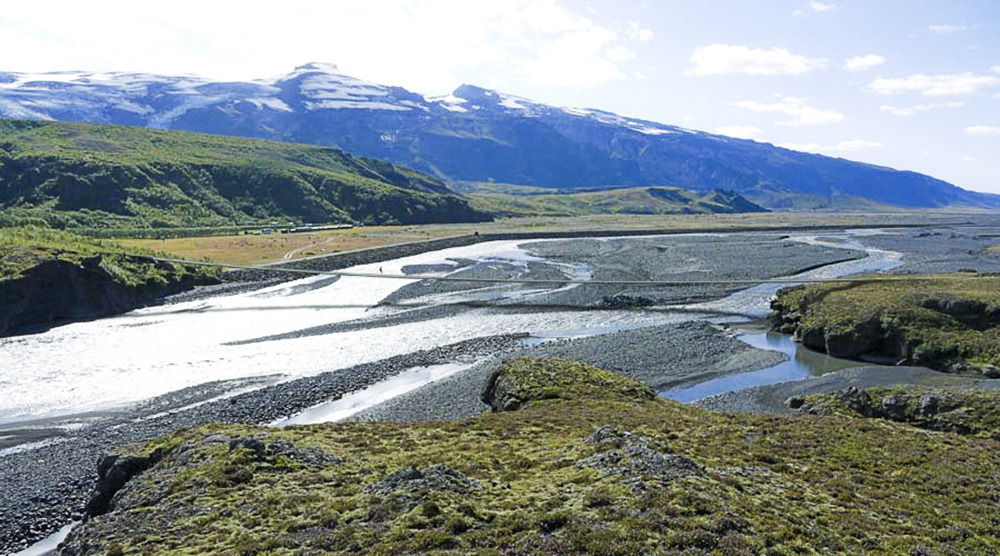 Footbridge over
Markarfljót
Project owner: Public Road Administration
KI: Aerodynamic testing
Where: Thórsmörk, Iceland
When: 2014
Footbridge over
Markarfljót
Project owner: Public Road Administration
KI: Aerodynamic testing
Where: Thórsmörk, Iceland
When: 2014
Easier access to the beautiful Thórsmörk
The 158 meter bridge over Markarfljót in the Icelandic nature preserve Thórsmörk marks the opening of a new hiking trail in the beautiful surroundings. Thórsmörk is at the confluence of two glacial rivers, Krossá and Markarfljót. Access to the much-used hiking area has not been easy, using either a route on foot over a mountain pass or by crossing the river Krossá in a special jeep. With the increasing number of tourists visiting the area, the Icelandic road and maritime authorities decided, that building a new bridge was the best solution. The bridge had to both fall naturally into the pristine landscape, be pleasant for cyclists, horse riders and wheelchair users - and be able to carry a four-wheel drive if necessary.
Minimalistic design
The design seeks to intrude as little as possible on the grand scale and purity of this landscape by keeping the height and mass of all elements to an absolute minimum. The 3 m wide bridge deck consists of wooden beams, allowing a view of the rushing river below. The bars located across the two main cables are made of high strength steel, following the entire span of the bridge and anchored on the riverside cliffs.
Aerodynamics
The aerodynamics of a long slender bridge, like the one designed to cross the river Markarfljót, is essential to both the stability and the user experience of the bridge. KI was hired by the Public Road Administration to assist with assessing the dynamic behavior of the bridge under wind loads and to oversee wind tunnel tests which were carried out by Force Technology.
The participants
The project is designed by Studio Grande Architects and EFLA consulting engineers.
Our role
Aerodynamic testing of the bridge.
The bridge has a span of 158 meters across the river Markarfljót. Images courtesy of Studio Grande Architects.
KI oversaw the wind tunnel testing carried out by Force Technology.