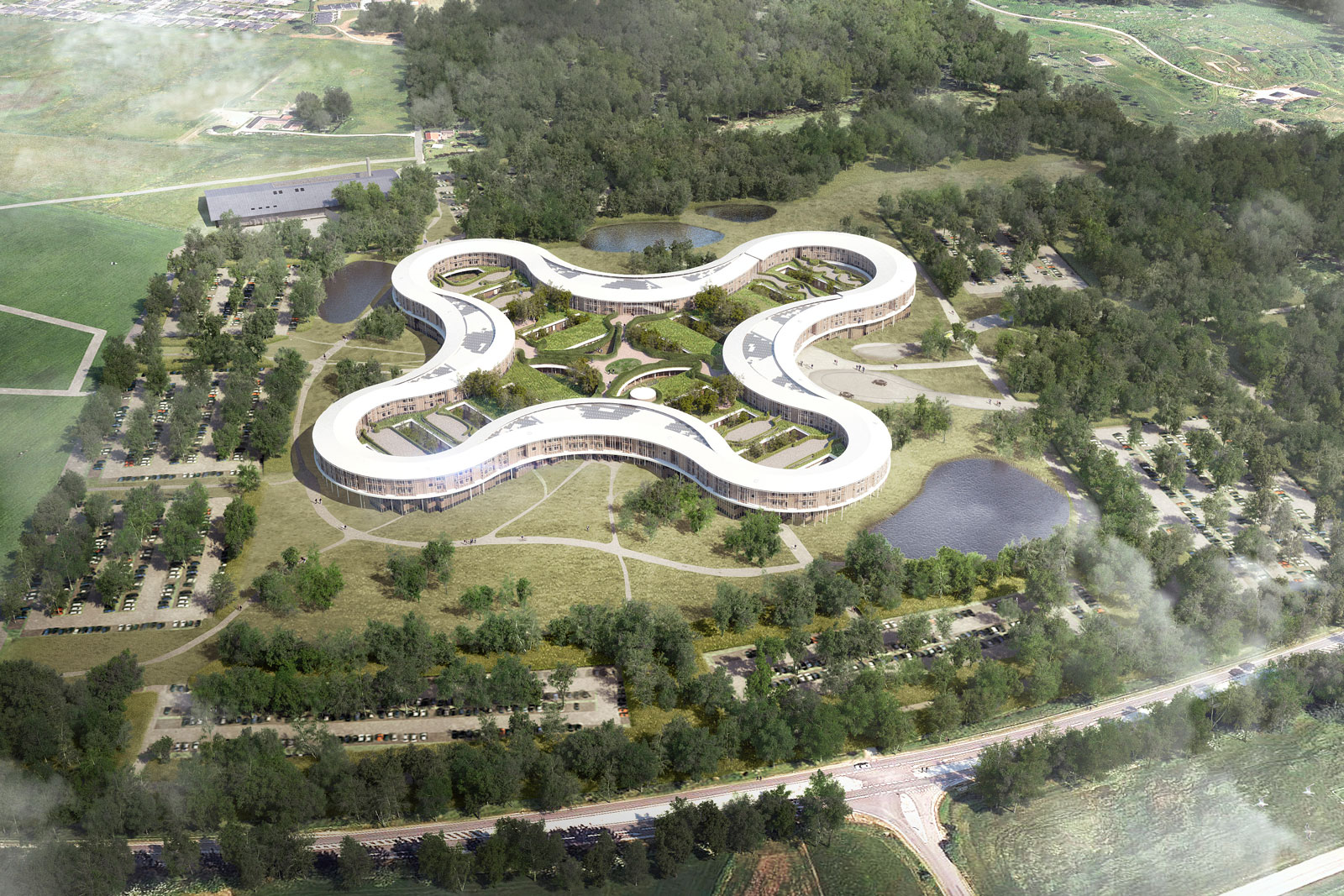 New North Zealand Hospital
Project owner: Region Hovedstaden
KI: structural design
Where: Hillerød, Denmark
When: 2020-24
New North Zealand Hospital
Project owner: Region Hovedstaden
KI: structural design
Where: Hillerød, Denmark
When: 2020-24
A four-leaf clover in the forest
New North Zealand Hospital will be a merger of three existing hospitals and will be located in Hillerød. In 2014, Herzog & de Meuron and Vilhelm Lauritzen Architects together won the competition to design the new super hospital with their iconic four-leaf clover design. The design placed great emphasis on the meeting with nature, and the ambition is at the same time to create a functional, flexible and healing framework for the future.
The new hospital will accommodate about 20 clinical functions and will cover more than 310,000 citizens who used to be distributed in hospitals in Hillerød, Elsinore and Frederikssund. The hospital will have a floor area of approx. 118,000 m2 and will contain 570 bed rooms including emergency room and intensive care units, as well as outpatient clinics, operating rooms, imaging functions, etc.
Combination of concrete and steel construction
The two lower floors of the hospital will be constructed in concrete, while the upper 2 floors will be built in steel. The asymmetrical and curved design provides a complex geometry in the steel structure, which must be solved by connecting straight construction parts (beams and pillars).
KI is working on the project for the contractor NCC to design composite deck beams, joints in the steel structure and prepare production bases for all the steel in the superstructure. We at KI are thrilled to be involved in this incredibly exciting project, and are pleased to contribute our great expertise in the very areas we are involved in.
Participants
Architects: Herzog & de Meuron and Vilhelm Lauritzen Architects
Contractor: NCC
Consulting engineers: MOE, KI, Ramboll
Client advisor: Cowi
Illustrations: Herzog & de Meuron, Vilhelm Lauritzen Architects, KI
Steel connections in 3D and real life.
3D model of the structure.
View from outside the hospital.
View from inside the hospital.