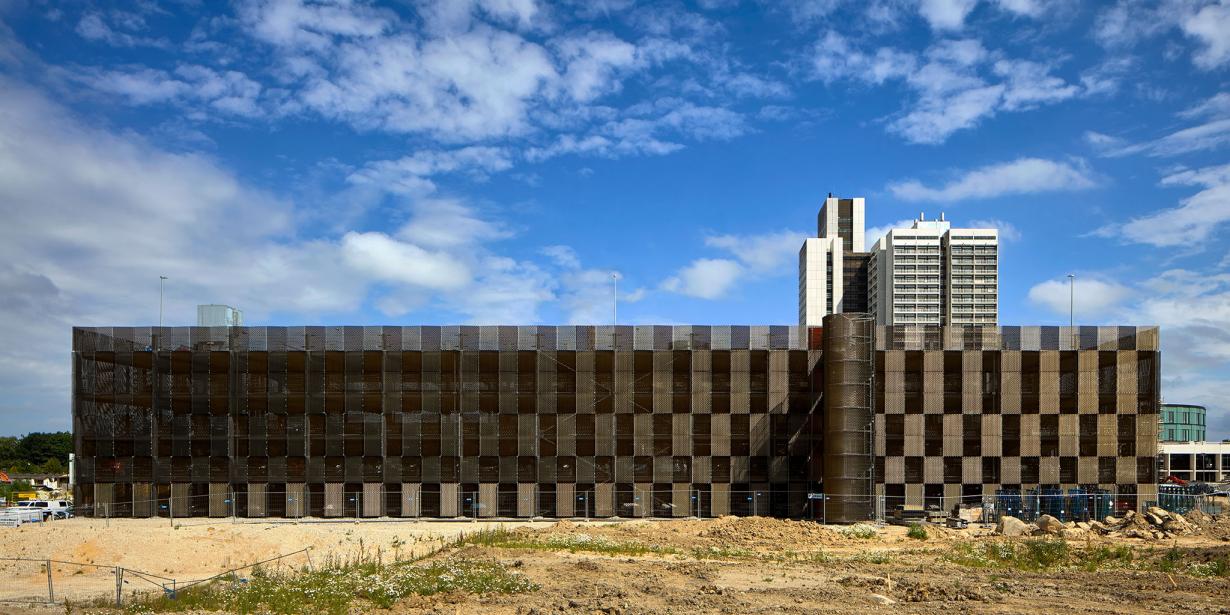 Parking house
Herlev Hospital
Client: Region Hovedstaden
KI: Structural design
Where: Herlev, Denmark
When: Opened in spring 2018
Parking house
Herlev Hospital
Client: Region Hovedstaden
KI: Structural design
Where: Herlev, Denmark
When: Opened in spring 2018
524 new parking spots at Herlev Hospital
Herlev Hospital is getting a new addition and growing in size. With an expansion and a growing demand to the larger hospital, a new parking house to accommodate this increased traffic was necessary. The parking house has a total of 11 levels of parking, divided into two buildings of 5 and 6 levels with space for up to 524 cars.
The facade of the building was created in a dark bronze-colored anodized stretch metal, which will complement the new hospital buildings. The metal facade was bent into waves across the building and stacked in a pattern of variating heights. This created a facade that shifts as you move around the building, and changes appearance throughout the course of a day. To integrate the new green recreational areas from the hospital project, the building will have plants growing wild up the facade. The living facade will create an organic transition from the green surrounding nature, to the parking house and hospital buildings. It will give a softer expression to the building, that will live and move just like its surroundings.
The participants
KI was main structural designer on the above-ground steel and concrete construction. This included optimizing columns, beams, concrete slabs and ramps, as well as the fire design of the beams and columns among other things. The parking house is designed by Mangor & Nagel Architects with NCC as main contractor.
A new generation of parking houses
The parking house at Herlev Hospital is part of a series of new parking houses developed by NCC and KI. Unique for these buildings is fast erection time, low cost and the fact that they can easily be disassembled in the future in a way that allows for a very high reuse of materials, should this ever be nescessary.
Photo credit: Mangor & Nagel, KI and buildingsupply.dk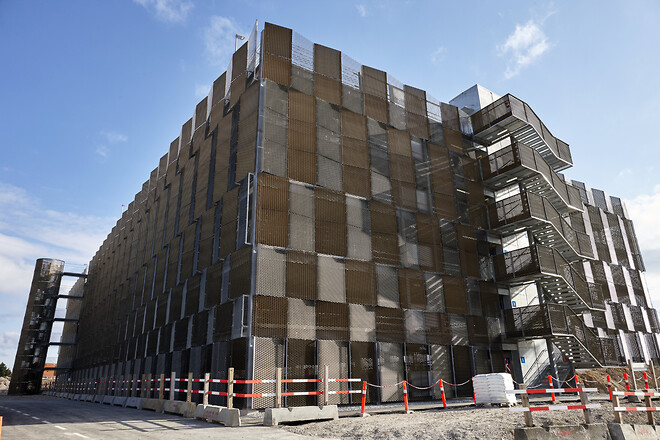 The parking house is the first built after a new concept developed bu NCC and KI.
The parking house is open and light and uses natural ventilation through the semi-transparent facade.
Photos of the bare steel construction.