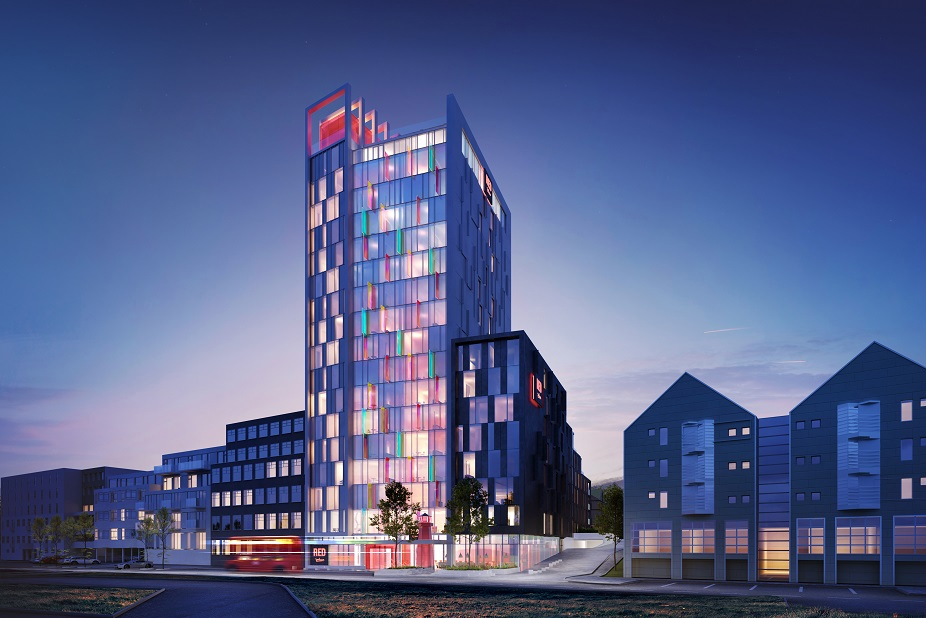 Radisson Red
Project owner: Confidential
KI: Structural design
Where: Reykjavik
When: Design phase 2018-2020
Radisson Red
Project owner: Confidential
KI: Structural design
Where: Reykjavik
When: Design phase 2018-2020
A new landmark for Reykjavik
The Radisson Hotel Group is building its fourth hotel in Reykjavik - this time under the luxurious Radisson Red brand in the center of the city. The new hotel and apartment building with a total size of 10000 m2 will consist of 203 hotel rooms distributed on 17 floors in the building's main tower as well as 30 apartments placed in the lower annex with 3 to 6 floors . Additionally, the building will contain 4000 m2 of underground parking in 3 levels. The top of the building will contain a two level roof terrace open to the public with a beautiful view over the city and the ocean. The building facade is designed with a combination of red, black and natural basalt creating the illusion of lava flow.
A mixture of Danish and Icelandic building traditions
The engineering work is carried out in close collaboration with our Icelandic sister company New Nordic Engineering in Iceland. KI was responsible for the entire structural design whilst New Nordic Engineering are responsible for design of installations such as plumbing, sewerage, HVAC and sprinkling as well as review and submittal of engineering drawings for authority approval. Our involvement in the project spans from the initial idea, through conceptual to detail design and value engineering.
The hotel design is based on a mixture of Icelandic and Danish building traditions with a structure made of a combination of prefabricated steel structures and in-situ concrete. The main cores are made of reinforced cast in-situ concrete to ensure stability against the severe horizontal wind- and earthquake loads that occur in Iceland. The remaining superstructure is made as a composite steel-concrete system that consists of concrete filled steel columns and a light-weight composite steel-concrete floor system. This type of construction has the benefit of fast erection, bringing the construction time down in comparison to traditional in-situ cast concrete structures.
Specifically, the environmental loads in Iceland are considerably larger and of different nature than what we are used to in Denmark. With a basic wind speed of 35 m/s (10 minute average at 10 m height), the wind loads in Iceland are twice in magnitude compared to Denmark. Structures in Iceland must also be designed to withstand the movements and loads generated during earthquakes. For the design of the horizontal load resisting system, we have worked in close collaboration with our sister-company Optum CE to optimize the engineering design of the concrete core walls.
Read the press release from Radisson Group about the new Radisson Red hotel.
Watch this video with beautiful images of the new hotel from Visir (Icelandic)
Photos: Radisson Group and KI Consulting Engineers
3D model of the new Radisson Red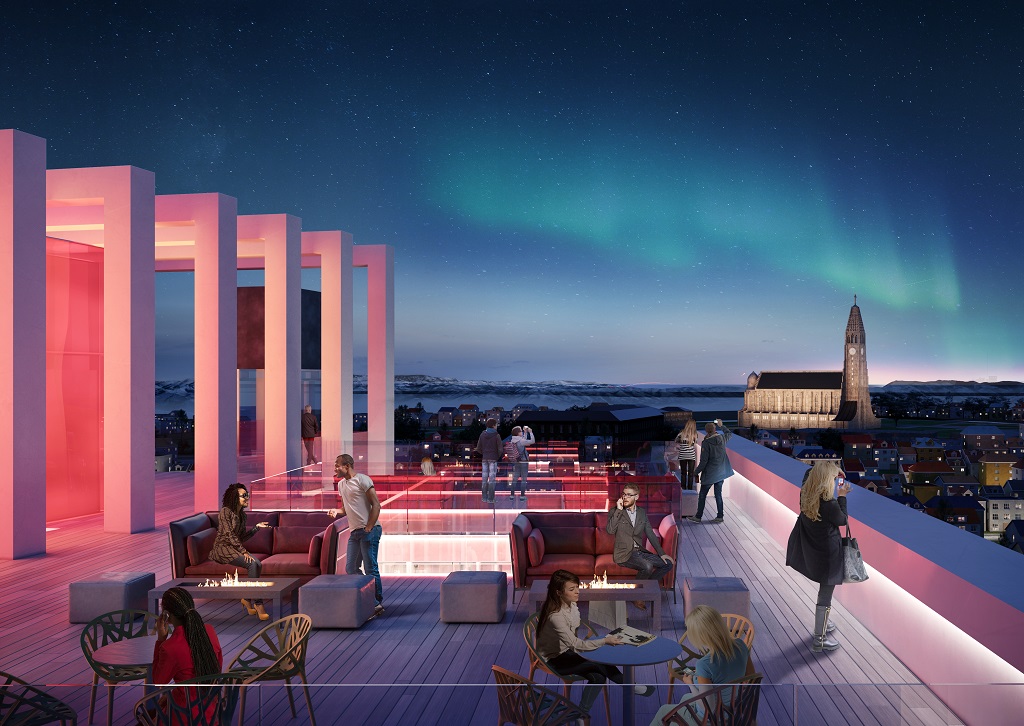 View from the roof terrace
Photos from the excavation and construction. The hotel is surrounded by older buildings, which meant the process had to be carefully planned.