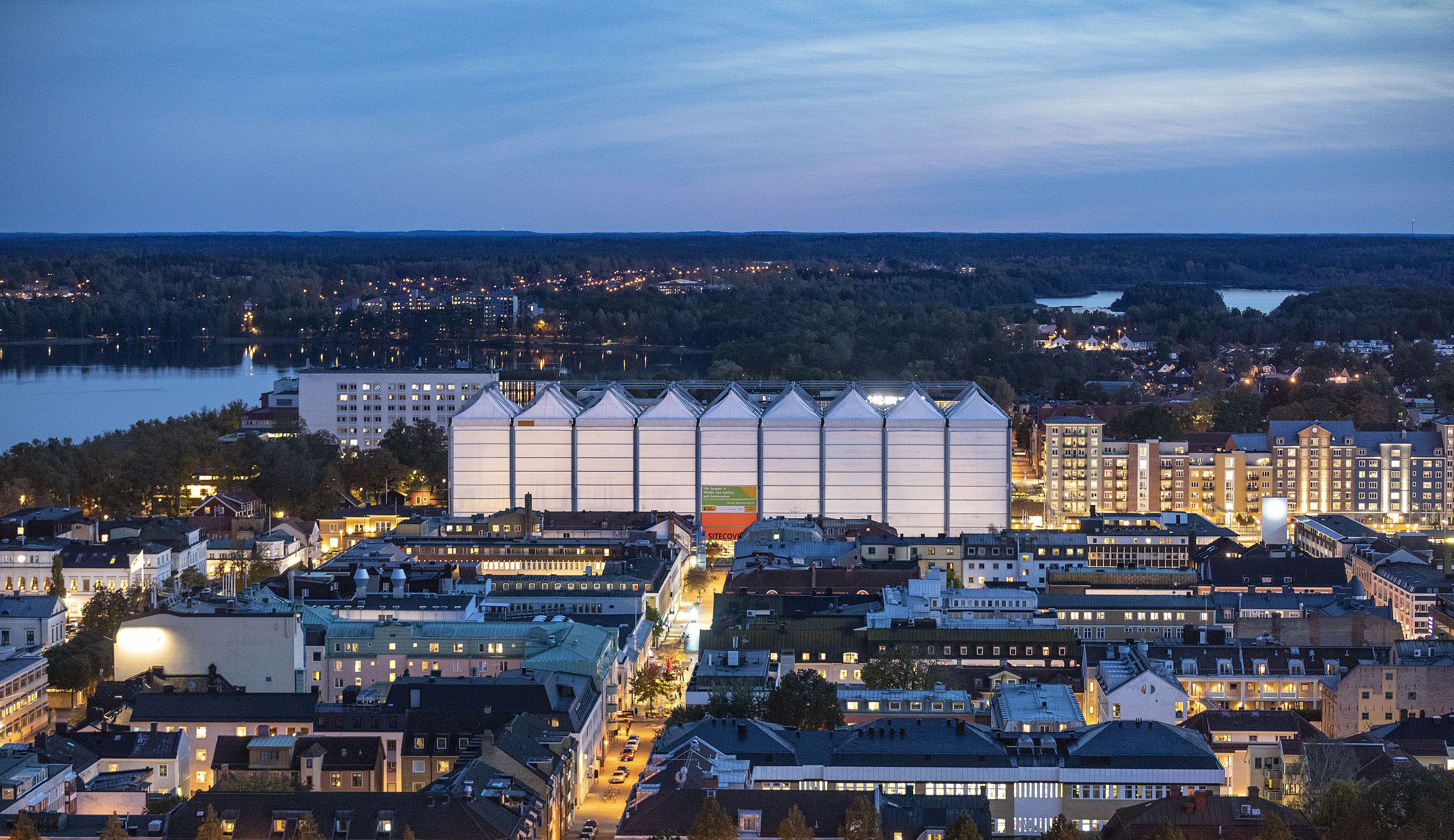 SiteCover Växjö
Project owner: Skanska Sweden AB
KI: Structural design
Where: Växjö, Sweden
When: 2019-2020
SiteCover Växjö
Project owner: Skanska Sweden AB
KI: Structural design
Where: Växjö, Sweden
When: 2019-2020
Extra protection for timber constructions
A Sitecover tent system was implemented in Växjö for the construction of their new wooden municipality house and railway station. The Sitecover tent was designed to provide coverage for the entire construction site and withstand conditions such as heavy snow, wind, and rain in accordance with Eurocode standards. The self-supported, flexible system with telescopic steel legs and an umbrella-like roof offers faster installation compared to traditional construction coverage solutions.
Working with timber constructions means a high need for weather protection. One of the key benefits of using a Sitecover tent for a timber construction project is the ability to start indoor work before the roof of the building is completed. This allows for a controlled environment and can alter the construction timeline significantly.
The SiteCover tent used for this project was 3 by 9 modules or 129,6m long and 43,2m wide with a height under hook of 30,0m. Extra long legs were developed to extend the height of the system. The narrow and tall dimensions meant, that extra bracing was needed in order to withstand wind loads.
Better work environment and faster process
Skanska was were pleasantly surprised by SiteCover and how much of a difference being able to work indoors made:
"Skanska has decided in close and good dialogue with the developer that weather protection should be used for wood construction, so the moisture protection of the wooden frame was therefore the main purpose. But because we keep the workplace dry, we have been able to start a large part of the work much earlier than would otherwise be possible. In addition, the working environment becomes much better when everyone can work indoors .
We are more than satisfied, and the weather protection has surpassed all our expectations"
Hans-Fredrik Helldahl, Distriktchef Skanska, Kronobergs län
OUR ROLE:
Structural design and verification of the steel structure in accordance with Eurocode
Image credit: Anders Bergön and SiteCover