Tomahawk
Project owner:  The Royal Institute of British Architecture (RIBA)
KI: Structural design
Where: United Kingdom
When: 2013-2016
Tomahawk
Project owner:  The Royal Institute of British Architecture (RIBA)
KI: Structural design
Where: United Kingdom
When: 2013-2016
A simple and flexible system of overhead lines
The Tomahawk is one of three finalist proposals in the design competition "Aesthetic overhead line structures" by the Royal Institute of British Architecture (RIBA). The point of the competition was to develop three prototypes, which might be used in the future.
The Tomahawk family is first and foremost simple and straightforward. It is designed to minimize the visual impact on the landscape as well as to keep down costs. This is achieved by reducing the height and number of structural elements, and by using contemporary materials. A flexible system of components aims to speed up installation, with fewer adaptions needed in the field. The strategy is to make as much of the manufacturing as possible in the workshop, where corrosion protection and general quality assurance is easier to control.
The project is a collaboration between COBE architects and KI.
Our role
Engineering development including code-based load determination, structural design, 3D modelling, technical specifications and creation of a prototype structure with mechanical testing.
In 2016 KI took a trip to the UK to see the new Tomahawk prototype.
Illustrations: COBE
The prototype at Allied Insulators' offices in the UK.
We went to visit Goodwin Steel Castings to see the cast parts for the Tomahawk.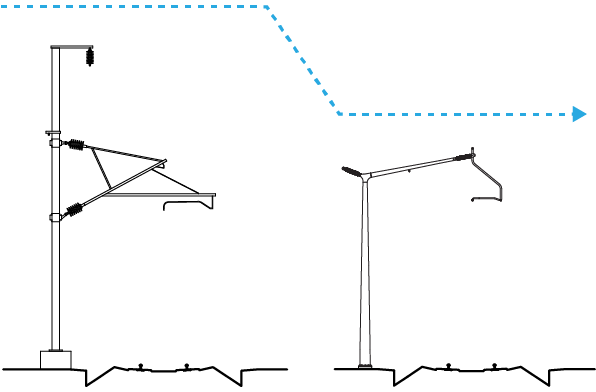 By arranging the wires in two levels the overall impression is improved as the cables form a simpler shape through its surroundings.