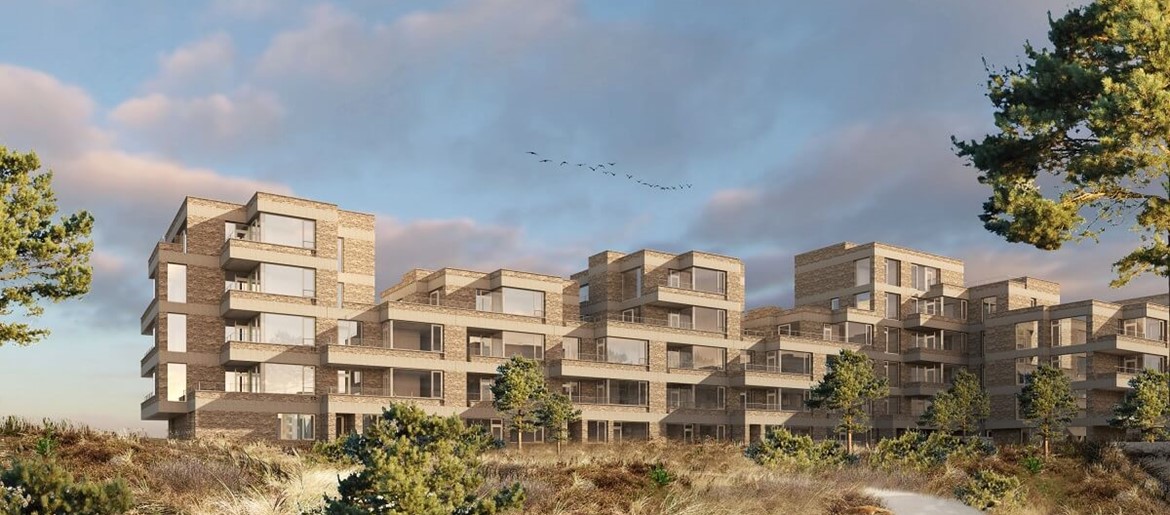 Tuborg Syd - Bakkedraget
Project owner: Danica Pension / NCC
KI: Structural design
Where: Hellerup, Denmark
When: Scheduled inauguration in summer 2021
Tuborg Syd - Bakkedraget
Project owner: Danica Pension / NCC
KI: Structural design
Where: Hellerup, Denmark
When: Scheduled inauguration in summer 2021
From industrial site to luxurious apartments and green meadow
The project was designed by Lundgaard & Tranberg architects, and their goal was to create a design that will do well over time with a robust beauty and an abundance of plant life both on roof gardens and on the facades of the buildings. The new residential area will consist of 323 apartments with a total area of 53,500 m2 spread over several unique buildings in a magnificent landscape of 100,000 m2. The buildings have great variation in heights and the shapes of the facades, which creates a distinctive light and shadow effect and a characteristic skyline.
Bakkedraget is part of Tuborg Syd and consists of three separate buildings. The ground floor will contain a total of 129 rental apartments spread over 3-8 floors plus underground parking with a gross area of 18,600 m2.
New optimized KI-beams and 5000 facade brackets
The project contains more than 2.5 km of custom-made KI composite beams, 350 m of ordinary steel columns and about 5,000 more or less unique facade fittings for attaching facade elements in concrete. KI has executed optimized construction design and prepared static documentation, 3D model and production basis for the steel workshop.
The KI composite beams are weight-optimized and they are designed taking into account stability during installation, flexibility in relation to cross-reinforcement and string reinforcement in the concrete decks, and they are proven to meet comfort requirements where relevant.
Construction site and 3D model
Our specially optimized KI-beams and 3D model of the steel structure
Example of facade brackets and 3D model of all brackets