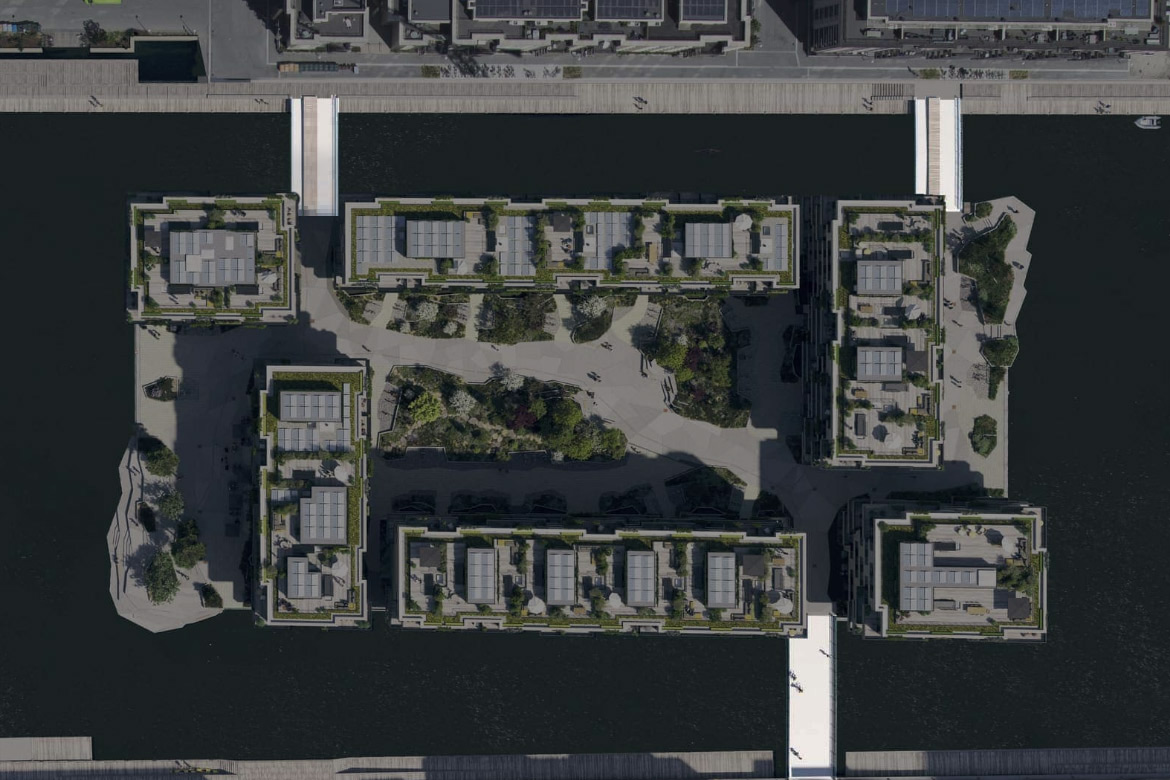 Bridges for Kronløbsøen
Project owner: Kronløbsøen Projekt P/S v. Nordkranen A/S Ejendomsudviklingsselskab, By & Havn, PensionDanmark
KI: Structural design
Where: Copenhagen, Denmark
When: 2020-23
Bridges for Kronløbsøen
Project owner: Kronløbsøen Projekt P/S v. Nordkranen A/S Ejendomsudviklingsselskab, By & Havn, PensionDanmark
KI: Structural design
Where: Copenhagen, Denmark
When: 2020-23
3 new steel bridges
Copenhagen's new island Kronløbsøen will be connected to the mainland via a tunnel and 3 bridges: 2 footbridges and a road bridge. As the island is meant to be car-free, the road bridge is intended for emergency vehicles and moving vehicles only. KI was hired by NCC, the main contractor, to design all three bridges.
Although the original plan was for the bridges to be cast in concrete, it made logistical sense to make them in steel, as steel can be installed much faster and thus did not hinder the rest of the construction.
Prefabricated parts mean quick assembly
The basin around the island was filled with sand during the construction phase to ensure easy access for vehicles and workers. The bridges' drilled concrete piles could be installed in sand without any problems, and were therefore not in the way of the construction work.
The road bridge, which is 29 meters long and 7.6 meters wide, consists of four prefabricated sections which were bolted together on site. The footbridges each consist of two sections, which actually form two separate bridges. The joints on both footbridges are hidden by a wooden box, which also provides seating.
Supply to the island
All supplies to Kronløbsøen go via the bridges. This has meant a great deal of coordination work between many actors. Under the road bridge, a box with cables for power, internet and phone lines will be installed, while the two footbridges will respectively have the large central suction under one and district heating, water and drainage under the other.
First bridge built at the beginning of 2022
The road bridge was installed in February 2022. The four sections, which together weigh 90 tonnes, arrived by special transport and were lifted onto the established piles by crane before finally being clamped in place. The two footbridges are expected to be completed during 2023, along with the rest of the construction on Kronløbsøen.