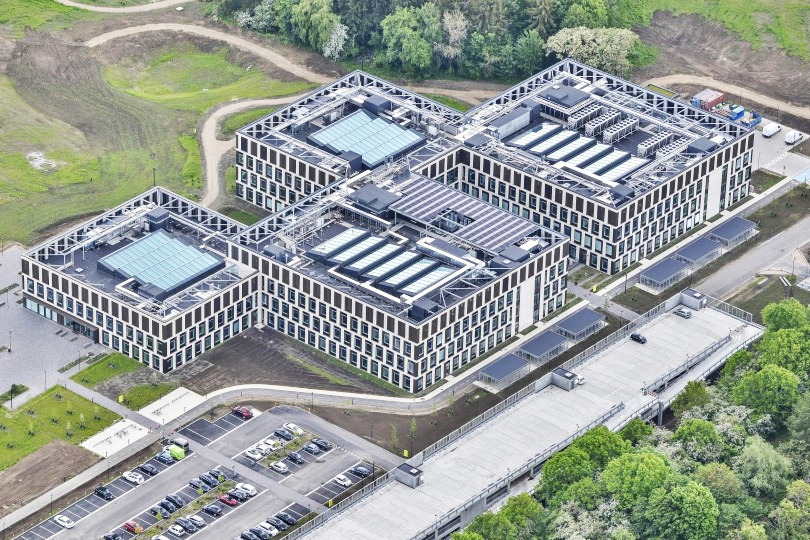 Novozymes Innovation Campus
Project owner: Novozymes 
KI: Structural design
Where: Lyngby, Denmark
When: 2016-2019
Novozymes Innovation Campus
Project owner: Novozymes 
KI: Structural design
Where: Lyngby, Denmark
When: 2015-2019
A bridge between education and research
Novozymes has built a new research and innovation center situated in Lyngby in the area around the Technical University of Denmark (DTU) close to their own main office in Bagsværd. The center will contain laboratory and research  facilities. It will bridge a link to the educational and research area at DTU by having classrooms, cafés and a small cinema, with the ambition of creating a global hub for biotech research. On top of this, it will have a science learning center where students and visitors can learn more about biology and nature.
Room for expansion
Phase one of the project is 23,500 sqm of laboratories and offices with accompanying canteen consisting of four conjoined buildings in 2-3 story height with inner atriums. Furthermore the project contains 7,000 sqm basement and a 9,600 sqm parking house.
Surrounding the buildings is a park and nature trails for public use. The goal of the project is to be in harmony with and complement the surrounding nature. The whole site area is 140,000 sqm, and Novozymes has plans to expand with additional separate buildings in the future. The first buildings are designed to have room for 800 employees – further expansion will be able to room an additional 2,000-2,500 employees.
Concrete and composite structures
The load-bearing structures consist of concrete element columns, walls and decks as well as cast steel composite beams and concrete beams. Columns and walls were founded directly on respectively point and strip foundations. The outer basement walls were mainly concrete element supplemented with in-situ cast walls in certain places as well. A complete 3D model of the steel and composite structure was made in Tekla by KI, and used to create workshop and erection documentation.
The participants
KI was hired by NCC who was the main contractor on the project. The architects were Vilhelm Lauritzen Architects, alongside GHB Landscape Architects. Rambøll acted as main engineering consultants. KI's role in the project, was to carry out the structural steel and composite design, 3D modelling and workshop drawings of the steel structure.
Image credit: Vilhelm Lauritzen Architects, Novozymes and KI
3D model showing the steel and composite structures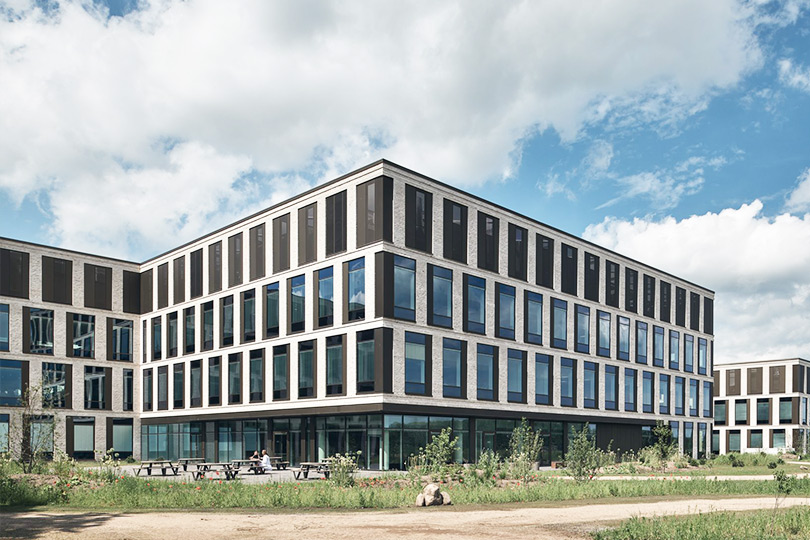 The new Novozymes Innovation Campus is surrounded by green areas.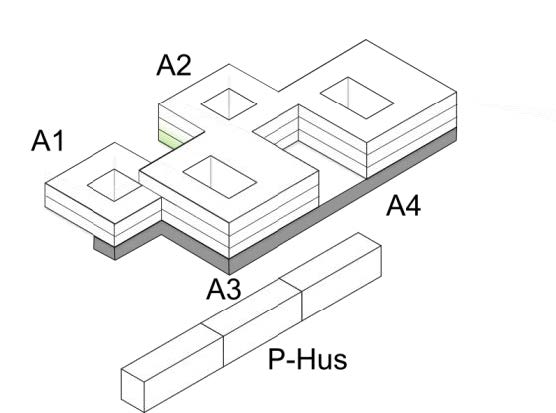 Phase 1 of the project consists of four connected buildings and a parking house.