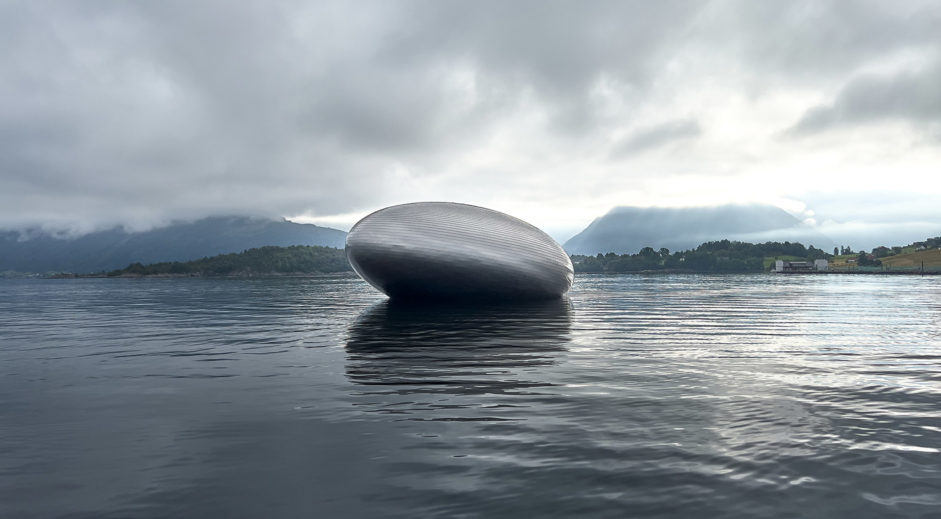 Salmon Eye
Project owner: Eide Fjordbruk
KI: Pre-design
Where: Hardanger fjord/Rosendal, Norway
When: 2019
Salmon Eye
Project owner: Eide Fjordbruk
KI: Pre-design
Where: Hardanger fjord/Rosendal, Norway
When: 2019
A floating museum in the Hardangerfjord
Salmon Eye is a unique museum experience in the Norwegian Hardangerfjord designed by Danish Kvorning design. The building itself floats on the surface of the sea and can only be accessed by boat. The purpose of the floating museum is to create focus around the climate challenges of aquaculture and fishing. The building was built by the Norwegian aquaculture company Eide Fjordbruk, which itself farms fish in the surrounding area.
From the museum's website:
"All industries leave a footprint, both positive and negative. Salmon Eye is a center that illuminates both the opportunities and challenges of the aquaculture industry. We want to see things from new perspectives, encourage new ways of thinking and reflect carefully . over what needs to be done in the industry."
The salmon eye
As the name suggests, the design is inspired by a salmon eye and covered with 9,500 steel "fish scales". The pupil at the top is used as an outdoor stage for concerts, lectures and other performances, and the design is, among other things, chosen because it can be very clearly recognized both from airplanes and on satellite images.
Internal and external construction
The load carrying structure for the superstructure/topside is made of structural steel. Globally, the structure is composed by two floors and the external façade. I.e. structurally the building is split into two parts, an internal deck structure and an external outer building shell.
The external structure is designed as a stiffened shell structure.
The internal structure consists of a 1st floor deck, a stair landing at roof terrace level, and columns and ramps/stairs connecting the different levels (ground floor, 1st floor, and roof floor level).
An out of the ordinary dining experience at restaurant Iris
In addition to the exhibition on aquaculture, Salmon Eye contains a high class gourmet restaurant, which offers a very special dining experience. The guests are picked up by boat and are then taken through a 6-hour, 18-course food journey, where the focus is on storytelling and fresh quality ingredients from the sea. The restaurant itself calls it "Expedition dining".
Restaurant Iris is run by the Danish chef Anika Madsen, who has worked at several Danish gourmet restaurants, and is known as the "umami queen".
Watch the beautiful film about Salmon Eye and restaurant Iris.
3D visualizations of the museum's layout.