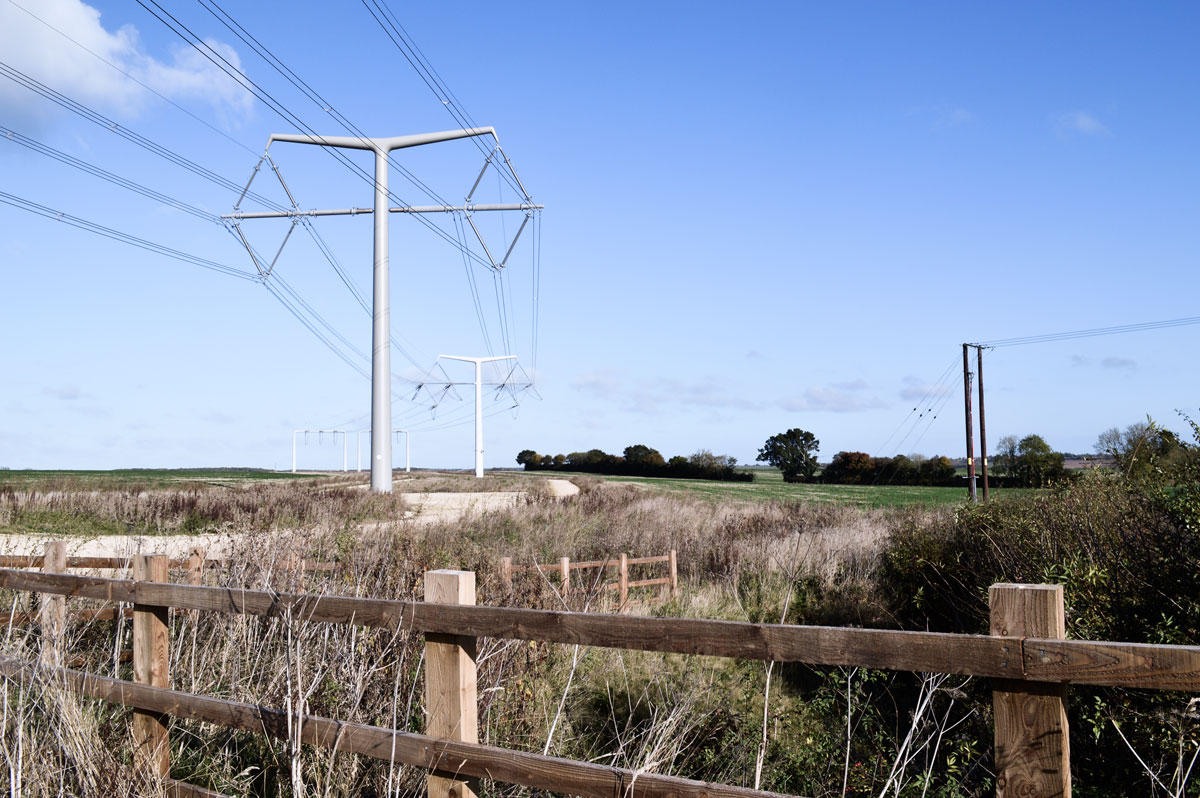 T-Pylon
Project owner: National Grid
KI: Engineering development
Where: UK
When: Development 2011-2020
T-Pylon
Project owner: National Grid
KI: Engineering development
Where: UK
When: Development 2011-2020
Competition winner
In May 2011, the Royal Institute of British Architecture (RIBA) – for the then Department of Energy and Climate Change (DECC) and National Grid – launched a competition to rethink the traditional electricity pylon. With more than 250 competition entries, the winner of the competition was the T-Pylon - a family of novel overhead line structures for transmission of 2×400 kV electricity.
A family of pylons
Since then, the T-Pylon family has been fully developed to include several other family members including a suspension pylon, a flying angle structure for small line deviations, a tension pylon and various terminal configurations.
The T-Pylon includes a number of novelties compared to traditional tubular overhead line structures. The most remarkable characteristic of the design is that all conductors are carried by one single attachment point, carrying an electrically isolating GRP sub-structure for carrying the phase conductors. The engineering design of the so-called "Insulator Unit" has been carried out in close collaboration with world-leading manufacturers of composite insulators for overhead line structures.
Energy and Climate Change Secretary Chris Huhne said:
"This is an innovative design which is simple, classical and practical. Its ingenious structure also means that it will be much shorter and smaller than existing pylons and therefore less intrusive."
The Hinkley point connection
In the summer of 2013, the T-Pylon was offered for the first time in the UK for a new electricity connection in Sommerset, the so-called Hinkley Point connection which runs between Bridgwater and Avonmouth in the South West of England.
As a preparation for Hinkley Point connection, a T-Pylon test line was built in the summer of 2015 at the National Grid's training academy at Eakring in Nottinghamshire.
David Wright, Director of Electricity Transmission Asset Management at National Grid said:
"We've been able to answer yes to the hundreds questions that need to be asked before we can introduce a new type of pylon. The training line has enabled us to learn so many lessons about how to manufacture and build the T-pylon.  I'm incredibly proud of the high standard of engineering that brought us to this point"
In 2020 KI has assisted Balfour Beatty and National Grid with detail design of the Hinkley Point Connection line, which was completed in 2022, making it the first line using the beautiful T-Pylons.
Complete engineering development
KI has carried out the complete engineering development of the T-Pylon, from initial conceptual design to assistance with manufacturing and mechanical testing of the structures. The engineering development includes load determination and structural design, structural steel work detailing, 3D modelling and creation of structural design drawings and specifications, design of GRP substructure and design of cast components.
The participants:
The competition was issued by National Grid. The T-pylon project is designed in collaboration between Bystrup Architects and KI.
Awards:
UK Steel Awards 2017
Energy Institute (EI) Awards 2015: "Energy Excellence" (Won)
The Institution of Engineering and Technology (THEIET) Awards 2014: "Innovation" (Nominated)
In 2015 a test line was built at the National Grid's training academy in Eakring
The development of the T-Pylon required a lot of testing in different conditions